Charter Service
We at HIRATAGAKUEN kobe air center offers you a private charted flights to everywhere in Japan at your convenience. A helicopter charter offers personal,business and technical options such as Air Taxi Service, Aerial Sightseeing In addition a helicopter charter could be available for film location surveys and other technical needs.
Our goal is to provide a premium tailor-made charter service that exceeds clients expectations we strive to provide a fast, friendly reliable service and are flexible in our approach offering an easy Charter.
Our friendly staffs are dedicated to ensuring that our clients receive the best customer air charter service possible, beginning from the first contact to the moment that they exit our aircraft. We offer executive and bespoke aircraft charter and provide friendly, reliable service. Please visit Our Services for a comprehensive list of what we can provide.
Air Taxi price list
under construction
Helicopters can fly to these routs too.
Kyoto City Kyoto JPD Heliport & Fukumura Heliport
Wakayama Prefecture KINAN Heliport
Nara Prefecture NARA Heliport
Mie Prefecture TSUSHI-ISEWAN Heliport
Fukui Prefecture WAKASA Heliport
Hyogo Prefecture Awaji Island Hotel Anaga& Westin Hotel Awaji
Kagawa Prefecture Syodoshima Island Hotel OliveanOr at Any place where helicopter can land.
Note.
If you planning to make helicopter charter flight please let us know as possible as early to make necessary an arrangements.
Flights can be canceled due to weather and aircraft condition.
Due to security reasons we may weigh and scan your baggage.
Please confirm the permissible size of the in flight baggage.
25% of service tax apply to all flights except between 9:00AM to 17:00PM JST.
No Cancelations charges
Our aircrafts.
Aerospatiale AS350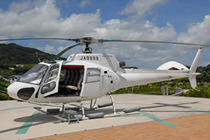 General characteristics
| | |
| --- | --- |
| Capacity | 1crew 4pax |
| Length | 42.45ft(12.94m) |
| Height | 10.63ft(3.24m) |
| Width | 6.6ft(2.00m) |
| Cruise speed | 132 knots, (126 mph) |
| Range | 355 NM |
Eurocopter EC135 (HEMS)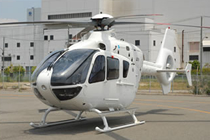 General characteristics
| | |
| --- | --- |
| Capacity | 1crew 5pax (HEMS: 1 crew 3pax 1stretcher) |
| Length | 39.9ft (12.16m) |
| Height | 11.5ft (3.51m) |
| Width | 6.6ft (2.00m) |
| Cruise speed | 124 knots, (142mph) |
| Range | 342 NM |
Beechcraft Baron G58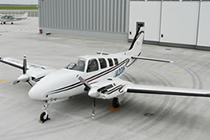 General characteristics
| | |
| --- | --- |
| Capacity | 1crew 4pax |
| Length | 29.1ft (9.09m) |
| Wing span | 37.1ft (11.53m) |
| Height | 9.9ft (2.97m) |
| Cruise speed | 202 knots, (232mph) |
| Range | 1583 NM |
Cessna 172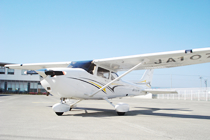 General characteristics
Capacity

1crew 2pax

Length

27.2ft (8.28m)

Height

8.11ft (2.72m)

Cruise speed

124 knots, (230 mph)

Range

640 NM